Shamanism and Spirituality
---
Your words and thoughts about shamanism, drumming and spiritual practices
Dear english speaking members
Schamanenstube schreibt am 29.10.2008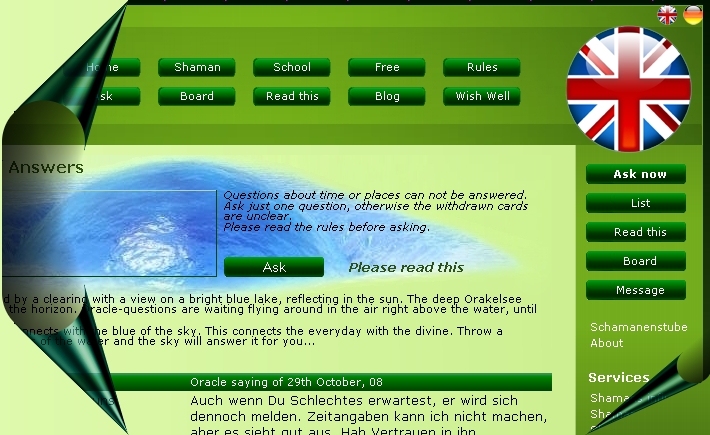 Hello and welcome to the message board of the Orakelsee!
As you can see, there is on the very right top of the Orakelsee-site a button for switching languages. Youre welcome to ask the oracle in english language. Id call my english speaking a "runaway english", but I hope Id serve you as good as the german speaking customers.
For discussions around the Orakelsee-site or the
Wish Well
please use this forum.
Yours,
Schamanenstube
---
AaronSartin-Bethell

Dear Schamanenstube I Have already introduced myself on the German page in my best German (I can speak it a lot better than I can write) and now I wanted to say hallo here as well My name is Aaron Sartin-Bethell and I have been luckky enough to receive over 7 years traing from an Australian Shaman that goes by the name of Omni. Her teachings were pretty difficult to follow as they were normally taken directly out of the channel, but were amazing fun and I wouldn't have missed a second for the world. now that I consider myself a Shaman, the techings go on and the world is my teacher - it is marvelous and I love every minute of it. I would love to get in touch with anyone who has a need to confer refer or just talk. all the best aaron Sartin-Bethell




Schamanenstube

Dear Aaron I welcome you to the Schamanenstube and I'm glad to write some English after a longer time. Actually your German is very well and I didn't have any doubts about your writings. Congratulations. *smile* The only thing I name is the reason why I only answer this post here. I've been missing any salutation or greeting in some of your German posts. As you see, we only answer posts talking to somebody. For us, the greeting-story belongs to our kind of living: there's always a reason to greet, isn't it? We try to make our online conversations as real as possible. You're right: the teaching never ends. Thinking of our shamanism school here in Switzerland, we've got about 150 non-personal units we teach. But on top of them: this is just a beginning as you can imagine. There are a few people here to just talk about shamanism. I could name you another of my forums if you'd like. For sure, the main language is German, but I read your texts and as I said initially: your German is very well. You'll have no problems getting in touch with other shamanic pratitionners. You're welcome to ask the other address per private message, if interested. *smile* Schamanenstube



« Zurück